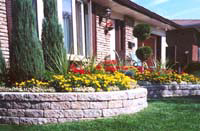 2003: Garden Design
Allan Blocks - Front Island Design

Island Designed using Allan Blocks which is considered a light duty retaining wall system. These blocks are can be used for edging, shaping, and gardening. These projects are often low, dry-stacked walls no taller than three feet in height.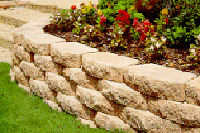 2002: Ashlar Blend - Allan Block Wall
Light to medium duty garden wall and steps

This grouping of blocks comes in beautiful blended colors. These walls come with matching corners and capstones to create a look of Classic Cut Stone. Color seen here is a light brown or beige.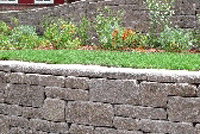 2002: Abbey Blend - Teared Wall
Light to medium duty teared walls

This teared Allan Block wall comes in a grayish unique blended color. Project and construction of all walls must meet local town ordinance and codes. Most local town regulations allow for a 3 to 4 foot wall. However, special applications can be made for bigger retaining wall jobs.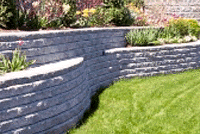 2000: AB Classic - Teared Wall Design
Free Form Shape Retaining Walls

This photo is of a teared free form shaped landscape masonry design. Blocks were layed with a 3° setback for a near vertical solution. They have Built-in drainage and interlock and engineering. The best choice when space is a premium